Students Enthrall Mentors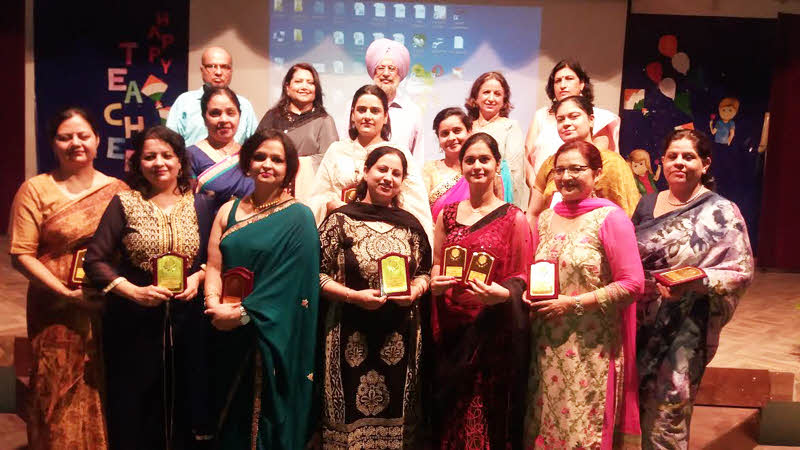 A teacher is indeed influential in moulding  the destiny of a child . To express their deep devotion and reverence towards their teachers, the students of St. Soldier School ,Mohali presented a colourful array of performances , celebrating  Teachers' Day.  Mentors were greeted warmly as they entered , with greeting cards made by students . The classes were taken over by 'Student-Teachers' who managed them effectively.  The celebration for the day commenced with  a PPT on the Life of  Dr Radha Krishan  the great Teacher and  many other teachers who have made an impact on the society   followed by heart rending  songs by all the four house s. The Kapil Show by the students of Class X stole the  show The Principal , Vice Principal and the Headmistress were the guests.    Teachers and students enjoyed , 'To Sir with Love', an all time Classic .
Principal , V. Tiwana , appreciated the effort of students for organizing and presenting the whole show .
Teacher of the year Awards were received by :
Ms Inderpreet kaur ——   Pre-Primary  Section
Ms. Monika Singh  ——–  Primary  Section
Ms. Sunakshi  ——–    Secondary  Section
Ms Manpreet Kaur – Sr Sec Section
Ms Anamika  for Excellent Board Result
Ms Ramneet Kaur  and Mr Parmod Kumar  for Overall Contribution to the School
Ms Maninder and Ms Monika for being the Best House Wardens
Ms Harpreet kaur  was  honoured for   Meeting Deadlines especially   Updation of Digital DATA     Ms.  Jasmeet Kaur , Ms Manpreet Kaur and Ms Neetu Suri for  being the Most Regular  Teachers.
The Decadians ( Those who have completed 10 years of service ) were also awarded. They were Teachers Ms. Jagmeet Kaur, Ms. Chaity Biswas, Ms. Shelly Ghai and helpers Neelam ji and Meenu ji.
Later , teachers were treated to a sumptuous meal organized by the management of the school. 14 teachers were awarded for their achievement during the session  2015-16
Teachers award 2015-16
Teachers were felicitated for their achievements during the session 2014-2015 with the following awards:
Teacher of the Year Pre-Primary Ms Sangeeta Nanda ·
Teacher of the Year Primary Ms Sukhwinder Kaur ·
Teacher of the Year Secondary Ms Sarabjeet Kaur ·
Teacher of the Year Sr Secondary Ms Jagmeet Kaur ·
Best House Warden ( Sr ) Ms Sarabjeet Kaur ·
Best House Warden (Jr) Ms Ravinder kaur ·
Over all Contribution : Ms Poonam Saini Ms Seema Sharma Ms Neelam Sharma Ms. Manpreet Kaur ·
Most Innovative Teachers : Ms Chaity Biswas ·
Most Regular Teacher : Ms Sapna Puri ·
Meeting Deadlines : Ms Anurita Sharma Ms Harwinder Kaur Ms Shilpa Bindlish ·