Education for All
The school motto "Sarbat Da Bhala' implies that the institution believes in the welfare of society without any distinction of caste, creed, race or social status.
Welcome to
St. Soldier
International Convent School
Founded in April 1994 and christened after the great Saint Soldier Guru Gobind Singh Ji, St. Soldier International School is an English medium Co-educational Senior Secondary Institution. It is affiliated to the Central Board of Secondary Education, New Delhi (Affiliation Code: 1630173). The school occupies a place of pride among the educational institutions of Mohali and is managed by St. Soldier Educational Society.
Book List Session 2016-17
(Parents are free to purchase books from any book store of their choice)
Toppers of St. Soldier, Mohali
Class XII Results


Class 10 Results
It is merry time at St. Soldier as the much awaited Class X result was declared. The students once again showed their intellectual prowess in SAII. Number of students appeared 130 .
 CGPA 10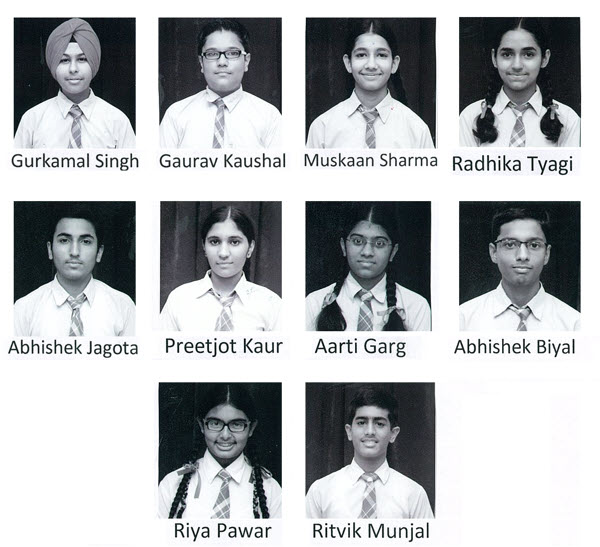 CGPA 9.8




Holidays 2016-17
| | | |
| --- | --- | --- |
|  Apr 2016 |  May 2016 |  Jun 2016 |
|  Jul 2016 |  Aug 2016 |  Sep 2016 |
|  Oct 2016 |  Nov 2016 |  Dec 2016 |
|  Jan 2017 |  Feb 2017 |  Mar 2017 |
St. Soldier International Convent School, Mohali celebrated the second and the last phase of the Annual Function 'Vibes -2015' in the school Auditorium on 12th December.

Another feather in the cap
Students of St. Soldier brought laurels to the school at the Zonal and Dist. Athletic Meet.
Himanshu Goswami student of Class XII bagged 2 Gold Medals in Triple Jump and High Jump .

Kushpreet Singh received two Silver Medals and 1 Bronze Medal in Triple Jump, 200 metre race and 5Km. walk respectively.

Pradeep and Abhishek bagged Bronze Medals in 1500 and Triple Jump.

Lovepreet Singh bagged Silver Medal in 1500 race and Manpreet Singh bagged Silver Medal in Long Jump.

Abhinav bagged Silver Medal in 3Km walk.
Harman Singh, Jaskirat Singh and Abhinav bagged Silver Medals in Open State Table Tennis Tournament at Jallandhar.

Ripanjeet Singh, a national level skating champion who scored 8.8 C.G.P.A. in CBSE Class X examination, made a perfect balance between sports and studies. This student of St. Soldier had been a conscientious child and knows the importance of academics if things don't turn out as expected . Ripan's success had shown way to other sports enthusiasts also . He had 3 gold medals at national level, winning a huge round of applause and laurels for everyone who motivated him. Giving credit for his success to teachers and parents he said hard work, patience and persistence in studies helped him achieve his goal.

Ritvik Munjal an all rounder of St. Soldier School made his almamater proud by scoring a perfect 10. C.G.P.A. in the CBSE Class X examination. Bestowed with theatrical skills and a melodious voice, Ritvik has clinched many prizes has won accolades for singing. He even bagged the trophy for three consecutive years at Mohd. Rafi Night Singing Contest held annually at 'The Tagore' theatre. A versatile personality Ritvik was the only one to be chosen by '94.3-My FM' as their budding R.J. Another feather in his cap is his oratorical skills which brought him laurels in various Inter and Intra School Declamation, Debate and Quiz contests. God bless him .We are proud of you dear. Keep it up !